Students
Program Highlights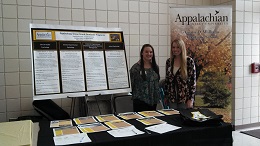 Click here to see a partial list [PDF] of publications, presentations, and other research activities of undergraduate and graduate psychology students during 2019 and 2020.
Undergraduate Advising Center
Welcome to the Dr. Wiley F. Smith Department of Psychology Undergraduate Advising Center at Appalachian State University. The department follows a mentoring model and is strongly committed to providing quality academic advising to majors, potential majors, and prospective students.
You will find answers to many of your questions on this website. We invite you to visit the Advising Center, Room #314, in Smith-Wright Hall. For advising questions email psyadvising@appstate.edu.
Schedule a zoom appointment with a Psychology Department Peer Advisor
Schedule an in-person appointment with a Psychology Department Peer Advisor
Appalachian State University Chapter of Psi Chi
A chapter of Psi Chi, the national honor society in psychology sponsored by the American Psychological Association, is open to undergraduate students who have completed nine hours of psychology coursework with a cumulative GPA in the top 35% of all undergraduate students at ASU. The purposes of Psi Chi are to encourage scholarship and to advance the science of psychology.