Program Highlights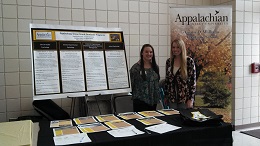 Click here to see a partial list [PDF] of publications, presentations and other research activities of undergraduate and graduate psychology students during 2014 and 2015.
The department serves approximately 900 undergraduate majors and 80 graduate students. Approximately 220 undergraduate majors graduate annually. Our graduates are well prepared for a variety of career options, including admission to graduate or professional school. Classes sizes average to about 30 students. Classes exclusively for our majors average fewer than 20 students per section. Faculty members are easily accessible and set aside a minimum of 7 office hours per week to meet with students. The Department also emphasizes faculty members taking on a mentoring relationship with students for career and professional advisement.
Four master's level graduate programs are housed in the department—Clinical, Experimental, Industrial-Organizational/Human Resources Management, and School Psychology. Approximately 80 graduate students are typically enrolled in these graduate programs, and 25-30 students complete their graduate degree requirements annually.