The North Carolina School Psychology Association (NCSPA) awarded the 2018 Practitioner of the Year Award to Jennifer Reilly, a 2009 graduate of the MA/Specialist in School Psychology Program at Appalachian State University.
Reilly is employed as a school psychologist in Guilford County Schools (GCS), and she is one of about 800 school psychologists in the state. Materials submitted in support of her nomination detailed her involvement in numerous school- and district-level training and support teams and her delivery of professional development programs to over 4,200 GCS faculty and staff members. Reilly "problem-solves academic and behavioral needs for students across three schools, develops and provides district and school-level trainings, supervises graduate students, and is on several specialty teams."
Reilly own words capture well her passion for the field of School Psychology: "In short, my role as a school psychologist is to enhance all students' development and education through relationship-building, problem-solving, collaborating with and supporting stakeholders, evaluating students and developing support plans, creating and conducting professional development, counseling, consulting, teaching and supervising, and learning continuously." NCSPA, which represents more than one-half of the school psychologists in the state, presents the award annually, "…to recognize excellence in school psychological services by honoring a school psychologist who exemplifies the highest level of professionalism in their daily practice."
The award was presented to Reilly at the NCSPA Fall Conference in Charlotte in October.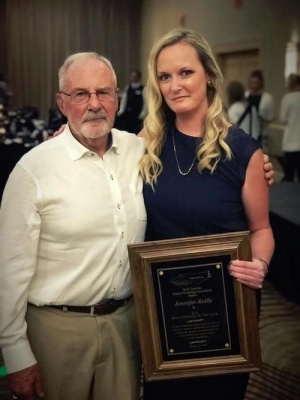 Tags: