Dr. Lindsay Masland was awarded the 2020 Jane S. Halonen Early Career Excellence in Teaching Award on behalf of APA Division 2 - The Society for the Teaching of Psychology. One award per year is given to a psychologist in their first ten years of teaching who demonstrates excellence in the following five areas: 1) effective teaching; (2) mentoring student professional development; (3) advancing teaching and learning through scholarship; (4) advancing teaching and learning through service; and (5) training high school, community college, or college/university teachers.
The award was presented virtually as a part of the division's Annual Conference on Teaching, and additional information about this accomplishment can be found in the October 2020 issue of the journal, Teaching of Psychology. This award is the second teaching award for Lindsay in 2020, as she was also awarded the Board of Governor's Appalachian State University Excellence in Teaching Award in the Spring.
Lindsay's also proud to have been selected as the new Director for the Annual Conference on Teaching, an international annual conference that brings together 300+ psychology faculty to consider the science and practice of teaching, and she was also recently installed as the Assistant Director of Faculty Development for the Center for Academic Excellence here at ASU.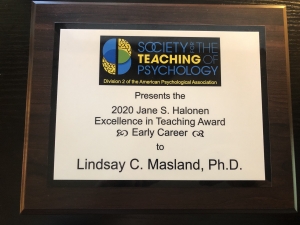 Tags: