In March of 2017, Netflix released the series 13 Reasons Why (13RW). 13RW is an adaptation of the novel 13 Reasons Why by Jay Asher. It tells the story of teenager Hannah Baker and her tragic spiral of despair, trauma, interpersonal isolation, and suicidal thinking that culminates in the graphic and extended visual depiction of her suicide. Prior to Hannah's death by suicide, she composes and disseminates 13 cassette tapes documenting her mostly retaliatory "reasons why." The tapes are incisive yet poetic diatribes directed at those she believed contributed to her demise. The graphic suicide scene is equally sharp, which is bookended by disturbing sequences of sexual assault, substance abuse, and a steady stream of emotional cruelty and naïve neglect perpetrated by all.
It could be argued that 13RW is art imitating life and that there is much to like about the series, most notably that it has raised awareness about these important issues. Indeed, as the producers pointed out in an epilogue (13 Reasons Why: Beyond the Reasons), they not only intended to entertain the audience but they wanted to tell a story that "resonates with young people," which they hoped would contribute to increased help-seeking behaviors such as contacting Crisis Text Line (Start 741-741) or calling the National Suicide Prevention Hotline (1-800-273-8255).
At the same time, there have been a number of serious criticisms of 13RW. Among the most commonly cited criticisms are that the displays of violence are gratuitous or that watching 13RW might trigger extreme distress, especially for those with undisclosed trauma or individuals who watch it alone without the ability to process the disturbing content.
Yet, despite these criticisms, people are flocking to watch 13RW. There have also been concerns that the depiction of suicide might lead to contagion, a phenomenon that has been documented in the literature. A study was published last summer that showed a significant spike in U.S. internet searches on "how to kill yourself" in the 19 days after 13RW was released. But, just when the pop culture and scientific worlds are beginning to wrap their heads around the impact of 13RW, fasten your seatbelts because season 2 is scheduled to be released in March of 2018!
The presentations at the public libraries will be focused on unpacking the science and practice of suicide prevention for the purpose of helping adolescents, families, and community members address this growing public health problem.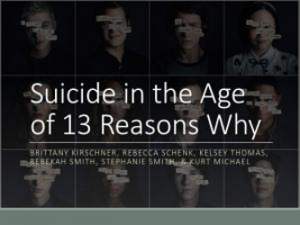 Tags: