"I may not have gone where I intended to go, but I think I have ended up where I needed to be."
-Douglas Adams
An Appalachian State alumna, JoAnna Klein (MA General/Experimental Psychology with honors (2009) BA Psychology (2006)), was recently featured by the National Audubon Society. She wrote an uplifting essay, What a Songbird Lost at Sea Taught Me About Survival. In this essay, JoAnna details her time at sea exploring life along the continental margin in the Pacific Ocean when Homeslice, a female Scarlet Tanager songbird, unexpectedly appeared on their ship. Detailing how Homeslice may have gotten lost or off course, JoAnna then compares this experience to navigating COVID:
"Much of the world remains in isolation, waiting like suspension feeders, arms out, for vaccines. They're coming. In the meantime, there is Homeslice. Homeslice may have been a common bird, though one hard to spot in a familiar world. Out of place, she was hard to miss. She has reminded me that all of us can find ourselves lost. Winds don't only carry songbirds to sea."
We strongly encourage you to read this uplifting essay. If you like it, you can find more of her writing on her website. There, you can also learn more about her transition from being a neuroscience researcher to a science journalist. Since that transition, she has worked for the NY Times and published in a number of other outlets. Additionally, JoAnna is now also an adjunct here at Appalachian State University in the Department of Communication.
We congratulate JoAnna for all her accomplishments and wish her good luck in her future endeavors!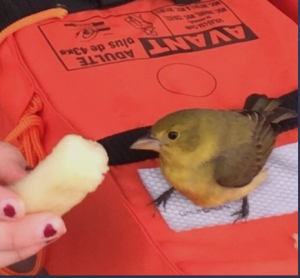 Tags: