Dr. Breitenstein will be accepting graduate students for Fall 2024.
Research Interests
• Sleep
• Temperament and self-regulation
• Academic achievement outcomes
• Health disparities
• Qualities of the home environment and family relationships
• Twin and behavior genetic designs
• Developmental psychology
Using psychobiological methods, objective sleep data, biological weight measurements, and twin designs, Dr. Breitenstein's research concentrates on understanding genetic, environmental, and psychosocial factors that contribute to poor sleep, as well as associations between poor and inadequate sleep and various developmental outcomes across childhood and adolescence (e.g., weight indicators, stress physiology, academic achievement). Currently, she is also exploring how individual differences in cultural values and child temperament contribute to links between poor sleep, health, and academic outcomes in childhood and adolescence.
Education
Ph.D., 2019, Arizona State University, Developmental Psychology
M.A., 2015, Arizona State University, Psychology
B.S., 2013, Wofford College, Psychology
Link to website: Reagan Breitenstein
Curriculum Vitae: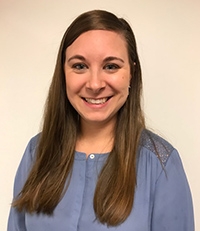 Title:

Assistant Professor
Department:

Psychology

Email address: Email me