Dr. Zrull was featured in Appalachian Today for his work with transfer students.
This fall, 1,230 new transfer students joined the Mountaineer population. Madeline Newlin was one of these new transfer students. A love of the mountains drew her to Appalachian, said Madeline, a junior from Winston-Salem majoring in psychology. She said she transferred from the University of North Carolina School of the Arts in order to explore new career paths.
Newlin met her Faculty Transfer Mentor — Dr. Mark Zrull, a professor in Appalachian's Department of Psychology — and joined his lab as a research assistant. Currently, they are working with adolescent rats to investigate how an enriched environment affects social interaction.
"Working with Dr. Zrull made me more confident as a student and made my career goals feel more tangible," Newlin said. "The hands-on experience has been a good way to explore and solidify my interest in neuroscience."
See the full story in Appalachian Today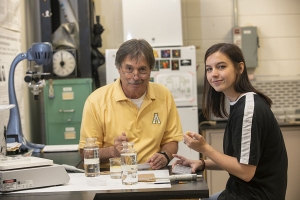 Tags: